Christie Taylor, Houston Business Journal
A step a-head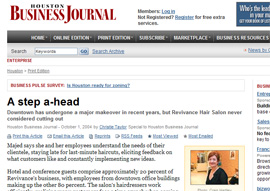 Salons can change hands and locations as often as women change their hair color, but Houston's Revivance Hair Salon is all about staying-power.
Revivance owner Marsha Majed says the salon has retained nearly 100 percent of its employees and clients since opening in 1986.
Majed says she and her employees understand the needs of their clientele, staying late for last-minute haircuts, eliciting feedback on what customers like and constantly implementing new ideas.
Hotel and conference guests comprise approximately 20 percent of Revivance's business, with employees from downtown office buildings making up the other 80 percent. The salon's hairdressers work efficiently, realizing many customers face a time crunch when coming in on their lunch hours.
Appointments start precisely on time, and most finish within 45 minutes, Majed says.
In addition to haircuts, Revivance offers manicures, spa pedicures and makeup consultations. The salon is open weekdays and until 2 p.m. on Saturdays.
In keeping with her values, she also insists that her employees enjoy what they do.
"If you are doing it just for a paycheck, go to another business," she says. "We are here for one common thing, to make a healthy business. We spend more time with each other than we do with our families."
Majed believes customers pick up on the salon's positive atmosphere and are willing to drive farther for a haircut.
"I consider them all my friends. It's small and I know everybody there," says Carolyn Rogan, who comes from Greenway Plaza to have her hair done. "When I see someone new come in, they always make that new customer feel welcome. Their prices are reasonable, and they enjoy what they do. It's the biggest bargain in town."
Jack Harrington has been a customer since the mid-1980s, remarking that his wife has changed hairstylists more times than he has. Harrington returns to Revivance because he likes his haircuts and appreciates Majed's work ethic.
Revivance gains new business through word-of-mouth. The salon has never advertised, other than placing information in the hotel and sending special promotions to existing customers.
---
Leightlc, review on CitySearch
The most one-on-one for your needs!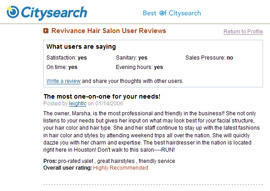 The owner, Marsha, is the most professional and friendly in the business!! She not only listens to your needs but gives her input on what may look best for your facial structure, your hair color and hair type. She and her staff continue to stay up with the latest fashions in hair color and styles by attending weekend trips all over the nation. She will quickly dazzle you with her charm and expertise. The best hairdresser in the nation is located right here in Houston! Don't walk to this salon—-RUN! * Pros: pro-rated valet , great hairstyles , friendly service * Overall user rating: Highly Recommended